Why is Sierra Blanca the most exclusive area in Marbella?
Sierra Blanca is the most exclusive and sought-after area in Costa del Sol. Located in the heart of the prestigious Golden Mile, Marbella and known for its modern villas and high-level security, Sierra Blanca is the Mediterranean dream.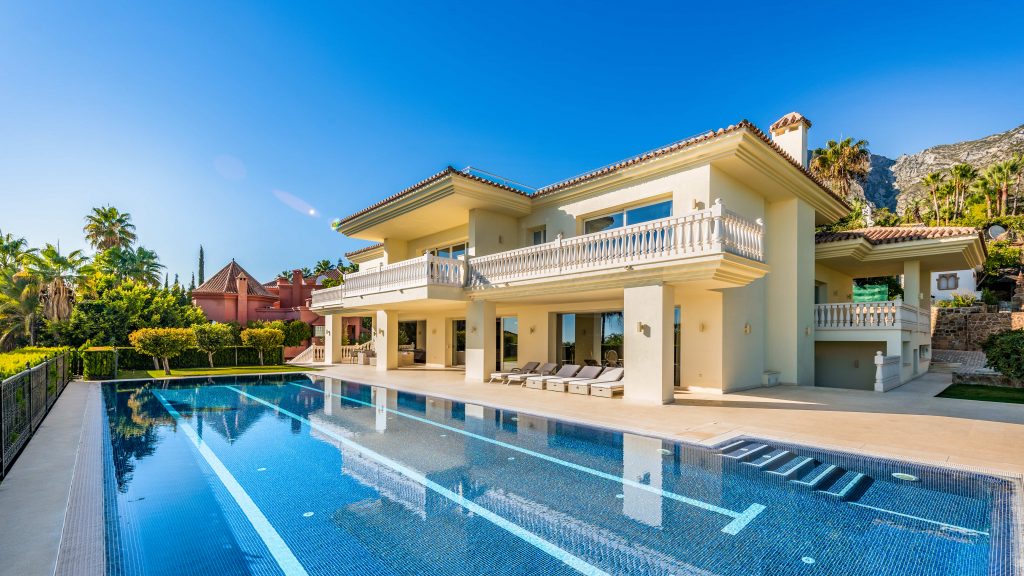 If we had to describe Sierra Blanca with just one phrase, we would say that Sierra Blanca is home to the best views in Marbella. Located in the most famous and prestigious zone of Costa del Sol: The Golden Mile, and next to La Concha Mountain. The elevated position allows its residents to enjoy the splendor of Marbella's city lights but also to appreciate the most beautiful natural landscapes, Gibraltar's silhouette, Africa's contour, and the Mediterranean Sea, only to name a few. The neighbors of Sierra Blanca are privileged, it is not often that we get to see a city skyline, the Mediterranean Sea and a starry panoramic sky, all at the same time.
Sierra Blanca exclusive properties
Every time we visit this exclusive area we feel as we were in Beverly Hills. The modern villas, the mature tropical gardens, and the green surrounding make it seems like it could have been taken out of a movie. The architects have come together as one to create a modern residential area. Sierra Blanca holds the best architecture ever seen: modern, classical and even some rustic villas with amazing sea views. If you're looking to settle in a quiet place, then this is your number one option. The exclusiveness of its residencies is evident, it's like entering a massive gated community where the high – level security is one of the most important factors. Sierra Blanca has 24 hours security service.
On the other hand, Sierra Blanca is the most exclusive area in Marbella because prestigious families and celebrities have chosen it to live their Mediterranean dream: you can wake up to the breezy sea air, enjoy breakfast by your terrace with marvellous panoramic sea views and then take a hike to La Concha Mountain; but if one day you wake up and you want to enjoy a cocktail drink by a sophisticated beach club, to go shopping to the luxurious shops in Puerto Banús or to have dinner in a Michelin restaurant, then you can easily get there, Marbella's center is only a 5 minute drive away. Sierra Blanca is the perfect zone to to live the 'Marbella experience' without worries.
As you may imagine, all these factors plus many others we wouldn't have the time to tell you about, make this area in constant demand. Sierra Blanca will always be an opportunity for investors and for buyers from all over the world that just want to have a high and safe level of living.
Are you still asking yourself why Sierra Blanca is the most exclusive area in Marbella? Take a look at our properties for sale and rent. We are sure you will end up loving the place as much as we do.